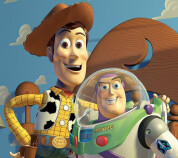 In 1995, Randy Newman wrote the song, "You've Got a Friend in Me."

You've got a friend in me
When the road looks rough ahead
And you're miles and miles
From your nice warm bed
You just remember what your old pal said
Boy, you've got a friend in me
Yeah, you've got a friend in me
You've got a friend in me

You got troubles, I've got 'em too
There isn't anything I wouldn't do for you
We stick together and see it through
'Cause you've got a friend in me
You've got a friend in me
Some other folks might be
A little bit smarter than I am
Bigger and stronger too
Maybe
But none of them will ever love you
The way I do
It's me and you, boy
And as the years go by
Our friendship will never die
You're gonna see it's our destiny
You've got a friend in me
That became the theme song for the Toy Story franchise. It is a fun song that reminds us that friends are important and it even gives a glimpse into what a soul friend is.
When I was a kid, friends were fun; we played, rode bikes, camped out in the back yard, played tackle football in the dirt, went to school together, played sports together, went to church together, and to camp and more. Friends were fun! Yes, we would get into scraps, say hurtful things, get mad at each other but in the end, we were friends. But as I got older, friends were not as but fun; instead they became more difficult to maintain and work at. Friends became more casual, not so much on the deep intimate soul level. But there is something about going through hard times that lets you know who are the ones in your life that will stick with you, not judge you, listen to you, and care deeply for you.
Friends matter. Just look at what is written in Proverbs about friendship …
A friend loves at all times, and a brother is born for adversity. Proverbs 17:17
A man of many companions may come to ruin, but there is a friend who sticks closer than a brother. Proverbs 18:24
He who loves purity of heart, and whose speech is gracious, will have the king as his friend. Proverbs 22:11
Faithful are the wounds of a friend; profuse are the kisses of an enemy. Proverbs 27:6
Oil and perfume make the heart glad, and the sweetness of a friend comes from his earnest counsel. Proverbs 27:9
Do not forsake your friend and your father's friend, and do not go to your brother's house in the day of your calamity. Better is a neighbor who is near than a brother who is far away. Proverbs 27:10
I want those kinds of friends in my life. I am blessed to have a wife and a few men in my life who I call my soul friends. They have modeled unconditional love, hospitality, listening, compassion, forgiveness, generosity and so much more. In many ways, they have all modeled the friendship which Jesus lived and described.
Greater love has no one than this, that someone lay down his life for his friends. You are my friends if you do what I command you. No longer do I call you servants, for the servant does not know what his master is doing; but I have called you friends, for all that I have heard from my Father I have made known to you. John 15:13–15
Jesus is our ultimate Friend ... the one who never gives up on us, is always there for us, and who has shown us how to be a friend. He is our example. Spend some time today holding before the Holy Spirit those who are close to you. Thank God for those who have been and are your soul friends. You may find yourself in a place where you long for and need that kind of friendship in your life. Take a moment and ask the Lord Jesus to be your soul friend. Focus your heart and attention on Him first ... and then see what happens.
-Pastor Jerry