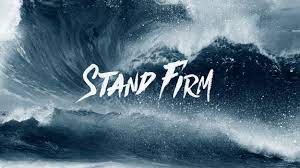 Have you ever had a conviction so strong that you refused to compromise? I can remember going through college with a conviction that was tested time and time again. No matter how strong the pressure was to conform, I just could not make myself compromise. Compromising would have made me make concessions for something that did not agree with a set of standards I deeply valued.
The Bible makes it clear that God does not want us to compromise His standards. Psalm 119:1-4 reminds us that, "joyful are people of integrity, who follow the instructions of the Lord. Joyful are those who obey His laws and search for Him with all their hearts. They do not compromise with evil, and they walk only in His paths. You have charged us to keep your commandments carefully." Mordecai refused to bow a knee to Haman. His ability to stand firm in the face of compromise and conformity threw the Jewish people into a state of crisis … but then what?
Not only did I have standards I did not want to compromise, but so did Mordecai. Would it have been easier for Mordecai to compromise and go along with the culture? Of course. However, what would it have cost him spiritually and emotionally? Mordecai had just been praised for saving the King's life, and yet Haman was filled with a craving of accolades from his fellow men. He despised Mordecai for not going down the slippery slope of compromise.
As believers, now more than ever, we are faced with decisions similar to Mordecai. We live in a culture that demands compromise. No longer is it acceptable to think or believe differently. If we do, we face the risk of cancel culture. We can either stand firm on the solid rock of Christ's word, or we can bend a knee, and compromise God's standards. Paul writes in 2 Timothy 4: 3-4, "for the time is coming when people will not endure sound teaching but having itching ears they will accumulate for themselves teachers to suit their own passions, and will turn away from listening to the truth."
Church family, are we getting closer to this reality? The answer is yes, but it should not surprise us. We serve a Father in heaven that loves us beyond measure, who goes before us, and beside us, and all around us. We must stand firm in our convictions and be the voice for those who do not have one.
-Pastor Joe