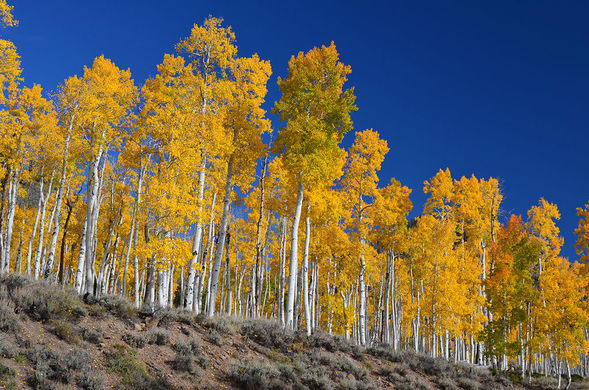 Fishlake National Forest in Utah has the world's second largest living organism: a grove of Quaking Aspens which spans across 107 acres and weighs about 6,600 tons ... all stemming from a single root system. In fact it has been determined that each of the approximately 47,000 aspen trees have identical DNA. When "one tree" is knocked down, another grows in its place. The grove is called "The Trembling Giant" or Pando, a Latin word that translates to "I Spread."
What great imagery for the joy of Jesus Christ found in every believer – a joy that spreads throughout the body of believers and spreads throughout the world! This is the idea behind 'The joy of one, magnified by our oneness, changing the world.'
"But now I am coming to you, and these things I speak in the world, that they may have my joy fulfilled in themselves."
John 17:13
I imagine that when Jesus spoke these words to the Father in His final recorded prayer, He called to mind all that had gone before Him – creation, the prophets, all the lessons taught to God's people, all that He had done on earth, and all that would come after Him. I imagine that He could see how that joy would spread from one believer to the next, grafting new followers into relationship with the Father, until that time when Jesus returns, and a New Heaven and New Earth are ushered in.
Jesus found joy despite the sorrow He experienced during His time on earth. He found joy in the fact that evil will not get the final word ... but that God gets the final word. He found joy in the reality that with every step we take, with every event that happens, and with every day that passes, it brings us closer to the time when evil's voice will be silenced ... forever.
Jesus found joy in the fact that believers' names are written in heaven, known by the Father, never to be erased. What an incredible truth – being known by the Father with our name written in Heaven and reserving our place!
Can you see the imagery? All believers thriving together, spreading as one, steadily changing the world one life at a time. New name after new name is written in heaven, changing how they live their life, changing how they live their eternity, and changing the world!
This Week: Look for joy in your daily life!
-Pastor Brian