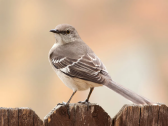 This summer when Gail and I were traveling on vacation, I was introduced to a phone app that can listen to bird songs and tell you exactly what kind of bird it is. I found myself getting up in the morning, sitting outside and listening to the birds, each with a unique song. Birds are everywhere! Every state in United States has a state bird. Texas' state bird is not the Road Runner, the Buzzard or even the Red-Tailed Hawk … no, it is the Northern Mockingbird. Why? Texas recognized the loyalty of its state bird because throughout its extremely hot summers and freezing cold winters, it remained steadfast. The Northern mockingbird did not, nor does it today, migrate south for winter. It resides in Texas all the year round. As the state legislation says written in 1927, "… the bird remains protective of its territory, like any true Texan."
One website reads …
"Mockingbirds draw their name from their song mimicry. A mockingbird can mimic other birdsongs. These talented creatures can also compose music. The typical mockingbird knows more than 200 melodies, some from other birds, others that are original compositions. They do not only repeat the songs of other birds. They also understand human music, including piano, other animals, such as dogs, and urban noises, such as gates and sirens. The birds will hear these items and try them out, typically repeating the sound two or three times quickly to create an original melody. So much for the old idiom of bird brains meaning dumb, because these birds rival Mozart or Bach in creativity."
In the Bible, you will find birds from the creation narrative to the teachings of Jesus. It was Jesus who chose a bird as an object lesson to teach us about trusting Him so that we can be about something greater - joy and freedom!
Look at the birds of the air: they neither sow nor reap nor gather into barns, and yet your heavenly Father feeds them. Are you not of more value than they? Matthew 6:26
That "something greater" is what puts a song in our heart when we simply trust God with our lives. This kind of trust is like the birds, who day by day live under the watchful eye and tender loving care of their Creator. Jesus says …
… do not be anxious, saying, 'What shall we eat?' or 'What shall we drink?' or 'What shall we wear?' For the Gentiles seek after all these things, and your heavenly Father knows that you need them all. Matthew 6:31-32
What is it that brings a melody to life of every child of God? It is the kingdom of God and His righteousness!
But seek first the kingdom of God and his righteousness, and all these things will be added to you. Matthew 6:33
I find that when I put my focus on those things that God is doing in me and through and all around me, I experience great joy and freedom! The birds have it right; when you and I do not spend all our time being anxious about life - we, too, can find ourselves singing!
Take some time right now to lay all of your cares and concerns before your heavenly Father. Now, find a worship song that you love and listen to it several times … sing with it … let it fill your heart, mind and soul. Join the birds ... and sing it out!
-Pastor Jerry