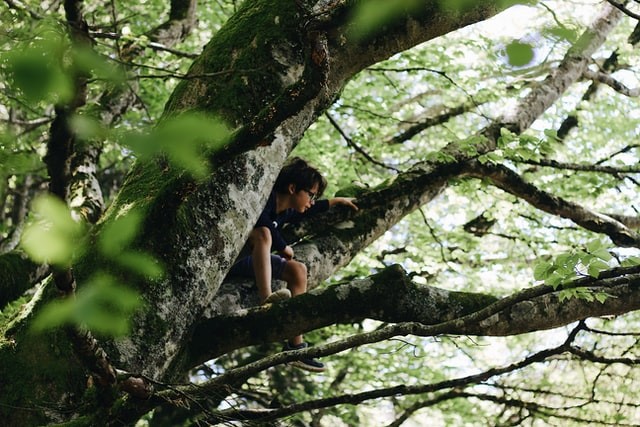 If you are insulted for the name of Christ, you are blessed, because the Spirit of glory and of God rests upon you. But let none of you suffer as a murderer or a thief or an evildoer or as a meddler. Yet if anyone suffers as a Christian, let him not be ashamed, but let him glorify God in that name.
1 Peter 4:14–16
"Come down out of that tree!!!"
I wish this would have been Jesus talking to me like I was Zacchaeus – that would be a better story for a Pastor. But this was actually a teacher in my high school, raising the window of his classroom and ordering me to get out of the tree I climbed. I did as commanded, and then I promptly climbed the tree right next to the one I had been in. I earned a Saturday detention for deciding to climb the second tree. Suffice it to say, I got into plenty of trouble when I was younger, and sadly, it was not always as innocent as tree climbing.
As God has continued working on me, I have seen Him cause me to get into more 'good trouble' than 'bad.' Praise God! If I am honest, there are some types of 'good trouble' that are easy for me get into – getting muddy and wet while digging a ditch for ServeFest or serving meals to the homeless or having my eyes opened and supporting the work against sex trafficking. (If you have not heard of or been on a tour with Elijah Rising – www.elijahrising.com – you probably do not know just how pervasive sex trafficking is in our area, even just down the street from The Fellowship). Please do not get me wrong – I do not get into enough good trouble; I do not answer the bell every time it rings. There are people at The Fellowship and in this community that do far more 'good trouble' than I do.
There are types of 'good trouble' that are hard for me – mostly around my uncertainty as to how I will be received. God has spent this year working on me and pushing me to get into that type of 'good trouble.' 2020 has seen racial tensions rise to the top of the national conversation … and for good reason. God used this season to push me into conversations that I would normally not have – conversations with individuals of a different skin color who experience the world differently than I do. I grew up witnessing this; it is nothing new to me, but for the most part, I would only engage in conversations about race with those I was close to, those who I felt would give me grace if I was misunderstood. This year God has pressed me out of that comfort zone. I have had conversations with my neighbor down the street, the repairman who visited my home to fix a broken cell phone, a stranger who was buying a bench from me, and a total stranger who was walking by my house. Each one of these people was of a different skin color and each conversation was started by me with a simple question, 'How are you doing with everything going on as it relates to race?' Each question led to conversation. Each conversation had me agreeing far more than disagreeing … a reminder that we are much more alike with people than we are different. Each conversation led to a hug or a firm handshake. Most importantly, each conversation gave me an opportunity to point to Jesus Christ.
I pray that God gets me into more 'good trouble' far more often. I pray that God continues to push me out of my comfort zone. I pray that you, reading this blog, would be led by the Holy Spirit to get yourself into some 'good trouble.'
For more about 'good trouble,' listen to the message Pastor Sean Nelson shared at The Fellowship+. You can find this message here: Good Suffering
-Pastor Brian