There are a few things in life that are worth waiting for. Waiting for your wedding day is one of them. Sometimes the waiting can be extremely difficult but when the day finally gets here, there is celebration!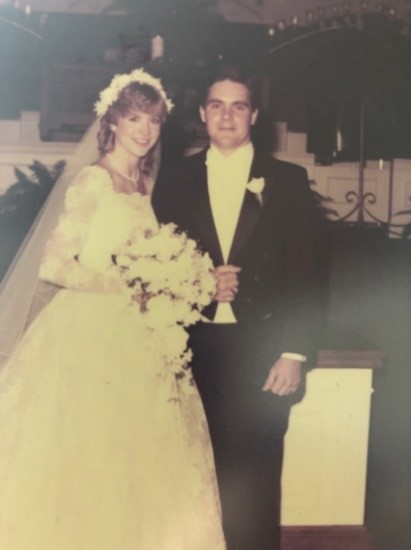 Here is a picture of Gail and I on our wedding day. For a wedding there is an exact date, but for a birth, there is only an approximate date. No one knows the exact date of when the baby is due to arrive, which causes anticipation of not only the date, but the birth itself, the sex of the baby (if not found out before), and what life will be like once the baby arrives. There are many unknowns and yet the anticipation drives the soon to be parents to do everything in their power to prepare for the arrival. All the planning, the classes, the talking, the stress and the morning sickness is all worth it knowing you will see your baby.
As Christ followers, we anticipate a date that no one knows. The Apostle Peter writes in 2 Peter 3:10, "But the day of the Lord will come like a thief, and then the heavens will pass away with a roar, and the heavenly bodies will be burned up and dissolved, and the earth and the works that are done on it will be exposed." Revelation 19 shows us that He is coming back to destroy evil and disease and plagues … to defeat the beast and rescue all of humanity. "Then I saw heaven opened, and behold, a white horse! The one sitting on it is called Faithful and True, and in righteousness he judges and makes war." Revelation 10:11
If there is no anticipation, if the coming of Christ does not excite you, then you will not prepare. Revelation is given to us as a road map to navigate difficult times. It gives us a glimpse of what we can expect so that we can persevere and make it to the end … without quitting. Hebrews 10:36 reminds us of this … "You need to persevere so that when you have done the will of God, you will receive what he has promised." Revelation also encourages us to keep going so that we can participate in the work of saving those around us because they are worth it.
When that day comes, our anticipation and everything we have gone through will all be worth it. John 14:2-3 says, "And if I go and prepare a place for you, I will come again and will take you to myself, that where I am you may be also." We will do as the elders and creatures do in Revelation 19:4 "the twenty-four elders and four living creatures fell down and worshiped God who was seated on the throne saying Amen. Hallelujah!"
This Week: In all the uncertainty of COVID-19, people may be more open to hearing the Gospel. This is the time to allow the anticipation of Christ's return to drive you to live in faithfulness, to serve others, to live your faith and share your life with all those around you.
-Dr. J