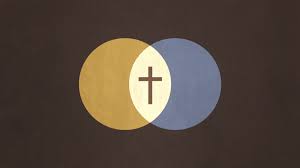 As Christians, our lives can sometimes get disoriented. We live in a world where earthly pleasures might compete for our mind's attention, our heart's affection, and our life's allegiance. If we allow those things to become our focus rather than Jesus, we may find ourselves forgetting all the wonderful things we have in our union with Jesus. When Paul writes to the Christians in Colossae, he encourages them by saying:
If then you have been raised with Christ, seek the things that are above,
where Christ is, seated at the right hand of God. Set your minds
on things that are above, not on things that are on earth.
Colossians 3:1-2
Having the right mindset is so important as Christians. Paul encourages us to orientate our minds to things above and to not allow things on earth to be our focus. Paul reminds us in Colossians 3:3 that our old life which desired earthly pleasures has been died to, and that our real life is hidden with Christ in God.
For you have died, and your life is hidden with Christ in God.
Colossians 3:3
When our life is hidden in Christ as Paul puts it, it means that we have union with Jesus. We are in Him.
And God raised us up with Christ and seated us with him
in the heavenly realms in Christ Jesus…
Ephesians 2:6
We now have spiritual life, and that life is already positioned in Jesus at the right hand of God. This is good news for the Christian. It means that our lives are eternally safe and secure. We do not have to worry so much about our daily life knowing that we are secure in Him for all of eternity. It also means that our new life is of the highest value because Jesus bought us at a price, and that everything Jesus has is also given to us being that we are heirs with Him in God. Our lives have incredible power, being that our union with Jesus means that He is also in us. We have power over sin and no longer must be mastered by the lust of our flesh. It also means that our most glorious life experience awaits us in that we will one day be glorified fully.
When Christ who is your life appears,
then you also will appear with him in glory.
Colossians 3:4
By orientating our minds towards Heaven where Jesus sits at the right hand of God. we can heed to Paul's instruction:
Put to death therefore what is earthly in you: sexual immorality,
impurity, passion, evil desire, and covetousness, which is idolatry.
On account of these the wrath of God is coming. In these you too
once walked, when you were living in them. But now you must put
them all away: anger, wrath, malice, slander, and obscene talk)
from your mouth. Do not lie to one another, seeing that you
have put off the old self with its practices and have put on
the new self, which is being renewed in knowledge after
the image of its creator.
Colossians 3:5-10
If we know who Jesus is, and who we are in Him. We know that we have all the power we need to orientate our minds towards heaven, our real home. We have all the power we need to say "no" to the things of the world that so easily distract us from giving Jesus our mind's attention, heart's affection, and life's allegiance. We as Christians have union with Christ and disunion with the world. We know only Jesus can satisfy. We know that He really is all that we need! We know that only Jesus is worthy of our mind's attention, heart's affection, and life's allegiance.
-Pastor Robert