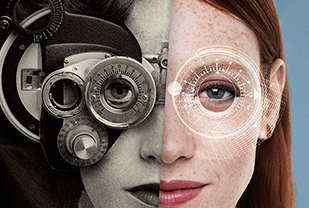 When was the last time you got your eyes checked? Do you remember the routine? Look at the eye chart, read the lines ... and then they put the lenses over your eyes and you have to start comparing. One or two? Two or three? One or three? This or that? Life is filled with choices and the choices we make can bring clarity or make things a little fuzzy. In our recent series "I Quit," we were challenged to quit comparing. There is definitely a negative side to comparing that is birthed out of our dissatisfaction and discontentment with what we have. We are always believing that what we have is not good enough, the best or really what we want or need. But there is a positive side of comparing. As one author put it,
When we admonish ourselves or others to stop comparing,
we may actually be insulating ourselves from reality.
-Abigail Dodds
Comparing and contrasting is how we see problems, real deficits in our character and even sin. Yes, comparing our lives to others can be birthed out of envy and jealousy … or comparing can be a way in which God shows us something of value. Comparing is how we discover what holiness is. It is how we see what is set apart as distinct from us. It is also how we know what we ought to be like. To abandon comparing is to abandon our understanding of God ... and of ourselves. What we need to do is train ourselves how to compare properly, not cut ourselves off from the necessity of comparison.
Paul admonishes us in 1 Corinthians 11:1 … Be imitators of me, as I am of Christ. Comparison is good when it leads to spiritual growth. We grow in greater holiness, greater love, greater desire to know God, serving, sacrificing for the cause of the Kingdom and the glory of God.
Sometimes we settle for second best in our spiritual lives. We are all different, so therefore that is their strength and this is my weakness. Yes, but you would not have seen it as a weakness without comparing your behavior or actions to Christ and recognizing that when we are weak, He is strong in and through us.
What do you see in others that you admire or desire that you know is what God wants for you? Take a moment and think about the places in your life that you want to change, spiritually, physically, emotionally, relationally. Now, what does God want for you and do you see others around you who might be an example, an encouragement to you as you seek this change in your life? Call them, talk to them, ask them how they have come to where they are in their relationship with Christ.
-Pastor Jerry