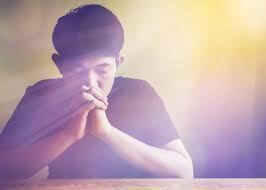 I was never good at taking tests. I tend to cram at the last minute ... or just wing it. Life is filled with tests and how you prepare has a lot to do with how you perform. In 1 Peter 1:6-7, Peter writes, "In this you rejoice, though now for a little while, if necessary, you have been grieved by various trials, so that the tested genuineness of your faith—more precious than gold that perishes though it is tested by fire—may be found to result in praise and glory and honor at the revelation of Jesus Christ."
This is a test! Everything we are going through in life - right now - is a test. You prepared for this, right? You studied the scriptures, you have learned to be still and drink deeply of God's presence. You know how trust the Father's love for you and His goodness, right? You know how to sacrifice and serve others with the abundance of your life. Like any test, it all depends on how well you prepared. This passage is a picture of the trials, even suffering that Christians go through. Going through hardship and not losing focus on what matters most … our faith in Jesus, our love for Jesus and the hope we have in Jesus!
I found this prayer on a blog that spoke powerfully to my heart and I thought I would share it with you.
A #2020 Confession
Lord,
Forgive me.
During this time of shutdowns, COVID, and unrest
I have despaired
Feeling overwhelmed and isolated from others
I have failed to trust in your sovereign will and promises
I have feared
You continually say, "Do not be afraid"
But I have feared disease, death, discomfort and change
I have hated
In my pain and discomfort
Those who disagree with me and those in power over me
Instead of trusting that ". . . nor anything . . . in all creation can separate me from your love"
I have spouted off
In person and online
Impatiently voicing my frustration for all to hear
Instead of being "quick to listen and slow to speak" as you have commanded
I have neglected
Those around me who need companionship and help
As I wallow in my own self-pity
I have doubted
Your unwavering plan and ability to carry it out
As the world around me becomes seemingly unrecognizable
Instead of remembering your steadfast love and perfect strength
Throughout history-the world's and mine
Forgive me, Lord. I pray.
This Week: There is no shame in our failure or our fear. Pray, confess, repent and receive God's love, grace, forgiveness and mercy. We are called to live with a faith that will be tested and refined in this life. Spend time with Jesus today being present to and preparing for the testing that is and will be.
-Pastor Jerry