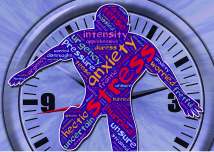 Some are calling the time that we live in the "Age of Anxiety" because so many people are struggling with what feels like uncertainty in every aspect of life. Over 40 million American adults are said to have anxiety disorders, and the numbers in adolescents and children are increasing as well. We all have times of anxiousness. Sometimes it can be acute like when our child runs out into the street and there is a real threat. Other times, it can become chronic based on some lie that we believe. In its more severe form, anxiety can become more severe causing a person to be restless, to sweat, to have feelings of dread or doom, to experience an increased the heart rate, or feel like they are going crazy or like they have lost all sense of control. Anxiety has become like gravity for many people, causing them to feel weighed down by its pull. The emptiness one can feel based on anxiety is as real as gravity itself.
If you feel anxious in any way, there is some good news. We are told over and over throughout God's Word that He is near in our times of anxiousness. David writes about this in Psalm 145 …
The Lord is near to all who call on Him, to all who call on Him in truth.
Psalm 145:18
We can also count on the fact that God understands what we are going through in the midst of our anxiety. Anxiety is not a sin; it is an emotion. And while it is true that we can move towards sinful behavior because of our anxiousness, anxiety in and of itself is not sin. God does not condemn us for feeling anxious, but rather has compassion on us.
He's been through weakness and testing, experienced it all—
all but the sin. So let's walk right up to him and get
what he is so ready to give. Take the mercy, accept the help.
Hebrews 4:14-16 The Message
We can also be encouraged by the fact that God wants to help us in the midst of our anxiety because He cares so deeply for us. Psalms 46 reminds us that God is our refuge and strength, and ever-present help in trouble. In 1 Peter 5:6-7, we are encouraged to humble ourselves before God in the midst of our anxiety and cast all of our anxieties on Him.
Humble yourselves, therefore, under the mighty hand of God
so that at the proper time he may exalt you, casting all your anxieties
on him, because he cares for you.
1 Peter 5:6-7
God never intended for us to carry our anxieties on our own. He is there to help us, and invites us to cast all of worries, fears, concerns, unease, and nervousness (anxieties) on Him. He invites us to pile it up on His shoulders so that we might find calm and rest. Paul just how to cast our cares on God in Philippians 4:5-9:
The Lord is at hand; do not be anxious about anything,
but in everything by prayer and supplication with
thanksgiving let your requests be made known to God.
And the peace of God, which surpasses all understanding,
will guard your hearts and your minds in Christ Jesus.
Philippians 4:5-9
Anxiety is a signal that it is time to talk to God. And when we pray, Paul encourages us to thank God for the good things in our life. Our prayers in the midst of anxiety might go something like this: "God I thank you that I have nothing to be anxious about because you are bigger than my anxieties." "God, I thank you that you are working all things together for my good." "God, I thank you that you are with me and that you love me." "God, I thank you that I do not have to fret because you are near." When we express prayers of supplication and thanksgiving, Paul tells us that God's peace that surpasses our minds will guard our hearts and minds in Christ Jesus.
God's peace is active. It guards our hearts and reminds us that Jesus is in control and has our best interest at heart. It tells us the truth about our lives in Christ. As Pastor and author John Piper puts it; "In Christ, no matter what happens, everything is going to be ultimately, gloriously, eternally, inexpressibly, and wonderfully okay."
So if you find yourself anxious today, cast those anxieties on God. Pray to Him and thank Him that He is more than enough for you. It might take some practice as letting go and giving things to God is not always natural for some of us … and we must remember that casting our cares on God is an ongoing process that we will need to repeat as our world brings with it a great deal of anxiety. So, we will have to keep coming back to God and casting each new worry on Him.
Why carry our anxieties when we can cast them on God? He is near, He understands, He wants to help you, because He cares for you. Let's turn our places of anxiety into places of praise in our life.
Peace I leave with you; my peace I give you.
I do not give to you as the world gives.
Do not let your hearts be troubled and do not be afraid.
– Jesus
-Pastor Robert