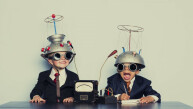 I remember when I was kid, I loved to play pretend and parade through the neighborhood every day that I could. My friends and I would dig in the desert making forts, ride our bikes for hours and play sports on dusty lots and backyards. I would come home dirty, sweaty, and smelly only to eat dinner and head back out. Those were fun times … then I grew up and had a job, responsibilities, school and more. I forgot how to play … until I had children … then it all came back!
We never really forget how to be a child or even childlike; it is just that it seems so unnatural for an adult. Yet Jesus on several occasions challenges us to become like a child or childlike in order to receive, enter, experience a true relationship with Him in the kingdom He has established.
Jesus said:
But Jesus called them to him, saying, "Let the children come to me, and do not hinder them, for to such belongs the kingdom of God. Truly, I say to you, whoever does not receive the kingdom of God like a child shall not enter it." Luke 18:16–17
Is what Jesus is saying, "like a child", referring to the kingdom or to you and me? Maybe both. We both receive the kingdom as a child and as if it were a child. There is something perfect and wonderful and joyful about the kingdom of heaven and we invite it, accept it just as we would an innocent child. Then, probably the obvious reading could be that you and I have to become childlike in our faith and trust in order to experience the kingdom! This later interpretation is more clearly seen in Matthew 18 where Jesus responds to the disciple's question about who is greatest in the kingdom of heaven.
At that time the disciples came to Jesus, saying, "Who is the greatest in the kingdom of heaven?" And calling to him a child, he put him in the midst of them and said, "Truly, I say to you, unless you turn and become like children, you will never enter the kingdom of heaven. Whoever humbles himself like this child is the greatest in the kingdom of heaven. "Whoever receives one such child in my name receives me, but whoever causes one of these little ones who believe in me to sin, it would be better for him to have a great millstone fastened around his neck and to be drowned in the depth of the sea. Matthew 18:1–6
Paul said:
When I was a child, I spoke like a child, I thought like a child, I reasoned like a child. When I became a man, I gave up childish ways. 1 Corinthians 13:11
There is a big difference between being childish and becoming childlike. As we grow into adulthood, it seems that most of us lose our childishness - we become more mature, and more in control of our emotions, but unfortunately, we also lose much of our childlikeness. We are less capable of being spontaneous, unselfconscious, and joyful. In other words, we lose the good with the bad.
Oliver Wendell Holmes, Sr., Supreme Court Justice 1902-1930, said …
"For the simplicity on this side of complexity, I wouldn't give you a fig. But for the simplicity on the other side of complexity, for that I would give you anything I have."
There is simplicity on the near-side of complexity ... and there is simplicity on the far-side of complexity. Simplicity on the near-side of complexity is childish. Simplicity on the far-side of complexity is childlike. Children can be spontaneous, unselfconscious, and joyful, but they can also be self-centered, impulsive and irritable. We could refer to their endearing qualities by the term "childlike," and to their frustrating qualities by the term "childish."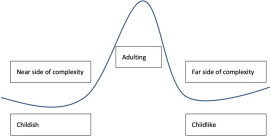 On the far side of complexity is the kingdom of God in which we must humble ourselves as the adults we are and by faith and trust enter into the kingdom of heaven. It is hard for adults who have become cynical and resigned about life, people, God, work and more, to simply in childlike faith and humility to acknowledge that God is our only hope and His kingdom, our only refuge.
Take some time this week to stop and reflect on the childlike qualities of faith, humility and trust that must be embraced in order to enter and experience the kingdom of heaven.
-Pastor Jerry