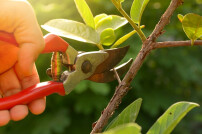 Pruning just sounds painful. When I prune my Myers lemon tree in the back yard or my bougainvillea on the porch, I do not really know what I am often doing and I feel like I will prune something wrong and make a mess. But when you watch a vinedresser, he knows the vine, loves the vine, and prunes vines in ways that I look at it and think, it looks like an ugly stick. But the vinedresser knows what the vine needs.
I am the true vine, and my Father is the vinedresser. Every branch in me that does not bear fruit he takes away, and every branch that does bear fruit he prunes, that it may bear more fruit. John 15:1–2
Pruning is all about love. Christians frequently confuse pruning with punishment. Spiritual growth in our lives is meant to be good, not just feel good. Pruning is about increasing our fruitfulness, keeping us growing into the likeness of Jesus, not punishing our transgressions. Pruning is about our heavenly Father's love for us and His desire for our lives to be abounding in fruit.
Therefore, my beloved brothers, be steadfast, immovable, always abounding in the work of the Lord, knowing that in the Lord your labor is not in vain. 1 Corinthians 15:58
The Father's care for you, the branches connecting to the vine, that is Jesus is all about love for you. James, the brother of Jesus reminds us to …
Draw near to God, and he will draw near to you. James 4:8
Jeremiah the prophet proclaimed this word of the Lord …
Then you will call upon me and come and pray to me, and I will hear you. You will seek me and find me, when you seek me with all your heart. Jeremiah 29:12–13
The Father has to get close to us and we to Him, as He gently removes from our lives any and all things that do not and will not bear the fruit of love. Pastor and author, David Jeremiah writes …
The vinedresser is never nearer the branches then when he is pruning them. David Jeremiah
How do you personally feel about the pruning process? Do you long for your life to bear greater fruit, abounding in good works? Maybe today, you would seek the Father and ask him to prune you. Prune me, Father!
-Pastor Jerry