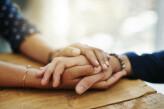 We all face times of discouragement. It is a universal experience that can happen to anyone, anywhere, at any time. Sometimes we know the reason for our discouragement, whether it is a hurt, a difficult circumstance, a challenge before us, or unmet expectations. But at other times, we cannot quite put our finger on just what it is that causes us to feel discouraged. We just know that we feel that way.
Encouragement is a universal need, especially in a time of great discouragement. But where to do we go to be encouraged?
Paul tells us in Romans 15 that God is the God of Endurance and Encouragement. If we want to be encouraged, it is only right that we go to the one who is the source of our encouragement … to God himself. He has cornered the market on encouragement. David wrote in the Psalms that his help comes from the Lord, maker of heaven and earth. So if we really want to be encouraged in times of discouragement, the best place to go is to God himself.
The second place we can go for encouragement is to God's Word. His word truly is a lamp to our feet and a light to our path. God gave us His word as a source of encouragement for times of difficulty.
For whatever was written in former days was written for our instruction, that through endurance and through the encouragement of the Scriptures we might have hope. Romans 15:4
God's Word brings reminder of His promises, what we can count on, and it has the power to fill us with the encouragement of hope. Seeing that others have struggled before us with the same struggles we have, and seeing that God's love and care is found on every page is a great source of encouragement.
Another source of encouragement is God's people themselves. Christians have the opportunity to join God in the encouragement of His people. Meeting with another brother or sister in Christ who loves and cares for you during your time of discouragement can be a great source of encouragement as well.
If you are discouraged today, may I encourage you to go to the God of Encouragement in prayer, turn to His Word for comfort, and reach out to another believer for a listening ear and encouraging words.
And let's not forget that when we receive the encouragement from God that we are hoping for, it is not only to benefit us … but that it also is used to encourage someone else. We are encouraged to be encouragers.
Blessed be the God and Father of our Lord Jesus Christ, the Father of mercies and God of all comfort, 4 who comforts us in all our affliction, so that we may be able to comfort those who are in any affliction, with the comfort with which we ourselves are comforted by God. 5 For as we share abundantly in Christ's sufferings, so through Christ we share abundantly in comfort too. 2 Corinthians 1:3-5
How do we encourage others with the encouragement we ourselves have received? First, we can encourage them with the attitude of joy that comes from being encouraged by God. Having a joy-filled attitude encourages others when they are down. We can encourage others by God's Truth, reminding them of His promises for them when they face times of discouragement. We can encourage them with our actions whether it be the gift of availability, a listening ear, a gift or an act of service. Lastly, but certainly not least in any regard… is PRAYER! Prayer changes things, and there is nothing more encouraging than to know someone is talking to God about your plight.
If you are feeling discouraged today, may the God of Endurance and Encouragement strengthen you with hope. Pray to Him, read His Word, and reach out to a fellow brother or sister for encouragement as well.
And as Christ followers, let's be on the lookout for opportunities to encourage and bless others with the encouragement God has given us.
The right word from the right person and the right time can be life changing.
Don't you yet understand? Don't you know by now that the everlasting God, the Creator of the farthest parts of the earth, never grows faint or weary? No one can fathom the depths of his understanding. 29 He gives power to the tired and worn out, and strength to the weak. 30 Even the youths shall be exhausted, and the young men will all give up. 31 But they that wait upon the Lord shall renew their strength. They shall mount up with wings like eagles; they shall run and not be weary; they shall walk and not faint. Isaiah 40:28-31
-Pastor Robert