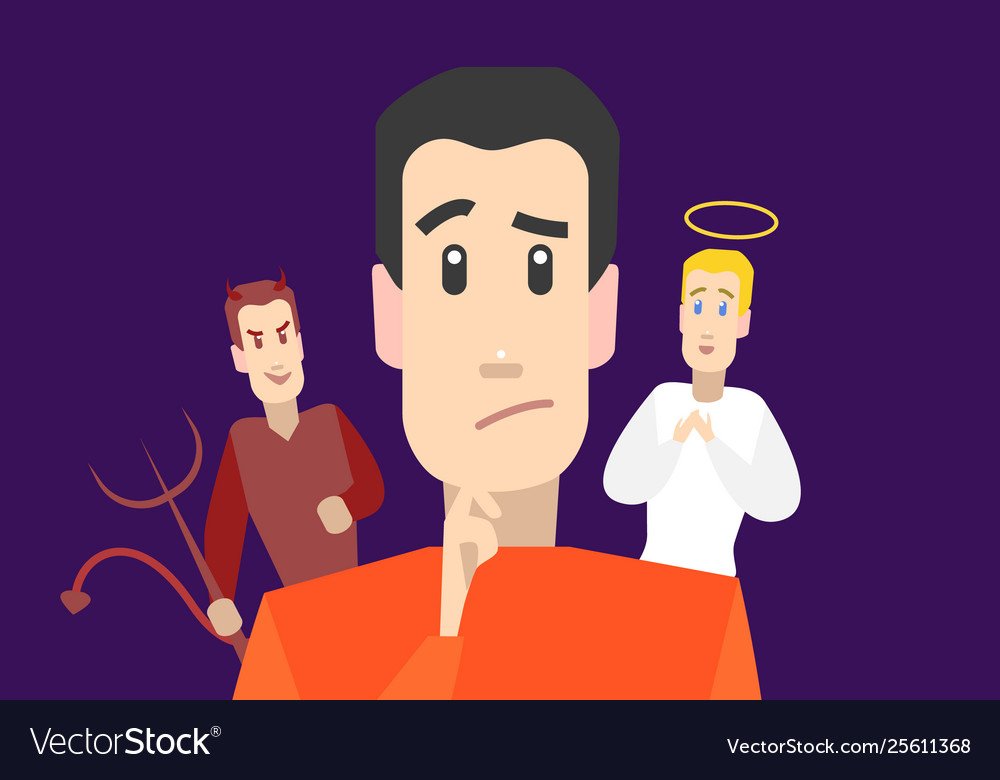 There is some frustration in the Christian life. The frustration comes from the struggle we have between the redeemed us, and the sin living in us. It is much like that cartoon image we see of a person with a devil on one shoulder, and an angel on the other. We find ourselves wanting to do good, but from time to time, we find ourselves giving into the sinful desires of our flesh. The struggle is real! The Apostle Paul talked about this ongoing struggle in his own life, and it is as though you can hear the frustration in his words ...
So I find it to be a law that when I want to do right, evil lies close at hand.
For I delight in the law of God, in my inner being, but I see in my members
another law waging war against the law of my mind and making me
captive to the law of sin that dwells in my members. Wretched man
that I am! Who will deliver me from this body of death?
Romans 7:21-24
Paul wanted to do the things he knew were righteous in God's eyes, but just like you and I, he found himself falling short at times. When we find ourselves falling short of what we know we are called in Christ to do, it can leave us feeling not only frustrated, but sometimes disappointed, discouraged, and even make us doubt our commitment to Christ.
Let me encourage you by saying that you are not alone. As long as we are in our human flesh, we will find ourselves "grinding it out" with the law of sin in these earthly bodies. When Paul asks, "who will deliver me from this body of death?", he gives us hope in the answer as to who our help comes from in verse 25. "Thanks be to God through Jesus Christ our Lord!" Jesus is our rescuer! We have been positionally justified with Jesus already. We are already "seated with Him in the heavenly places" according to Ephesians 2. Our past, present, and future sins are forgiven. His grace is not only able to cover our sin, but His grace is also sufficient for us in the fight against sin. We are not fighting from a place of defeat, but rather from a place of victory. The grind that we find ourselves in between living into our righteousness and sin is all about the process of making progress. We are called to perfection, buy we are still grinding it out when it comes to living into the calling. We do not want to become casual with sin, we want it to bother us that we give in, but we also want to be encouraged to keep on grinding! We want to be encouraged to press into our righteousness that we have in Jesus.
If we are going to make progress in the grind, we need to begin by being honest about ourselves. We are all sinners and fall short. It is okay to admit that, and confession is good. If we are going to make progress, we do not need to try to grind it out alone. God has wired us for community with other believers. We all need people we can be honest with about ourselves, who will love us and encourage us. If you are not in a small group community of believers, find one. We were never meant to grind it out alone.
May we all keep working on living into the righteousness that Jesus has given us. Remember that when we are tempted to sin, the Holy Spirit will always give us a way out. Pray, and ask the Spirit to not only recognize the way out, but to have enough courage and strength to take it.
For those who live according to the flesh set their minds
on the things of the flesh, but those who live according
to the Spirit set their minds on the things of the Spirit.
Romans 8:5
-Pastor Robert