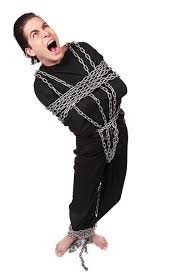 What is holding you back? What is keeping you from you from experiencing financial freedom in your life? Is it the fear of not having enough, living with a scarcity mindset? Is it a belief that more is better so that the desire to acquire guides your life? Or is it the resulting debt of living beyond your means?
We live in a world of immediate gratification, instant everything and the promise that our lives will be better if we just buy that next something. If we just have that one thing which will make life more comfortable and convenient. Every day we are bombarded with an endless stream of messages: "Buy now, pay later." "No interest for 12 months, 24 months, 36 months." "Get what you deserve - today." "Enjoy comfort ... you earned it." Listening to all the messages from advertisers out there, you would think that life is all about what we buy, where we go, where we live, what we drive. That message and our inability to say no (or not yet) has led to the largest individual debt in our lifetimes. As of September 2021, consumer debt is at $14.96 trillion, with the average American debt among consumers at $92,727. Proverbs 22:7 reminds us that … The rich rules over the poor, and the borrower is the slave of the lender. The truth is - we see it every day in our lives … the debt of some purchases affects us long after fading in value. We have got to make a change in the way we think and live ... or we will continue to be a slave to debt.
Jesus said in Luke 12:15 … Take care, and be on your guard against all covetousness, for one's life does not consist in the abundance of his possessions. If we want to experience the abundant life, the rich life … then we must redefine what wealth and riches are in our lives. Life is so much more than what have. So if we focus on being content with what we have, paying off debt that we can, we will be in a position to experience life after debt
Is there life after debt? Yes. Debt does not have to be what hinders the abundant life that we are called to live. We can experience the life that Paul wrote about in his letter to Timothy. From 1 Timothy 6:18-19 … They are to do good, to be rich in good works, to be generous and ready to share, thus storing up treasure for themselves as a good foundation for the future, so that they may take hold of that which is truly life. But, if our wealth is tied up in debt, then it is difficult to live with generosity. The key to getting out of debt is to practice contentment.
As Paul told young Timothy in 1 Timothy 6:6–10 … But godliness with contentment is great gain, for we brought nothing into the world, and we cannot take anything out of the world. But if we have food and clothing, with these we will be content. But those who desire to be rich fall into temptation, into a snare, into many senseless and harmful desires that plunge people into ruin and destruction. For the love of money is a root of all kinds of evils. …
What do you need to do to get out of debt? Pray for understanding, contentment, self-control, and a wise plan. Then surround yourself with the support of good friends and family who will encourage you on this journey. Let's live the rich life!
-Pastor Jerry