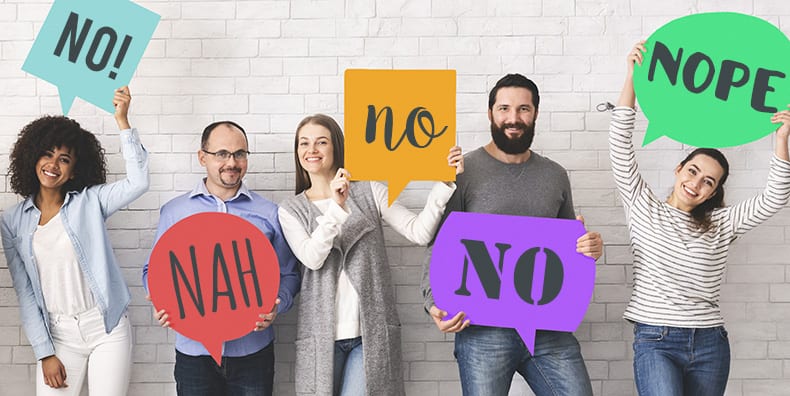 NO! … is a one-word boundary.
Gail and I are leading a Faithwalking course on emotional maturity and we have been talking a lot about boundaries. When I was kid, I did not like the word no. I did not like being told what I could or could not do. "No, you can't stay up all night and watch TV." "No, you can't eat ice cream for dinner." "No, you can't wear that to church." "No, you can't watch that show or listen to that music." No … is a boundary that most parents learn to help keep their children safe until they can set their own boundaries. I think that is where it gets tricky. As a child, my parents did not explain why the boundary was there or why it was necessary. So, "No" often felt arbitrary and even capricious. As an adult, I do not like to be told no and I do not like to tell others no ... and that can be a problem. When I was a kid, I just thought that every "No" was an unreasonable response or at times even an unloving command. Because I wanted to do what I wanted to do. It took a gracious, kind, patient and loving God to remind me that He gives us no's that always lead us to experience something good as well as to be protected from something bad. When I read 1 Corinthians 6-7, there are so many good things that God wants you and me to experience ... and so many bad things that could happen.
Flee from sexual immorality. Every other sin a person commits is outside the body, but the sexually immoral person sins against his own body. Or do you not know that your body is a temple of the Holy Spirit within you, whom you have from God? You are not your own, or you were bought with a price. So glorify God in your body. 1 Corinthians 6:18–20
Bad … addiction, pornography, lust, rape, incest, adultery, fornication, whether with the opposite sex or the same sex! Sexual immorality is giving into the desire for sexual pleasure in whatever way or form is available, expedient, pleasurable, etc. It does not ask what is right; it asks what will fill this longing in me at any given moment for sexual pleasure. It does not ask what God wants for me; it says, "This is your body, and you will feel better and more fulfilled if you pursue pleasure ... no matter what it is." If it feels good, do it. Because sin entered the world, our desires were corrupted. Paul writes to the Ephesian Christians …
… put off your old self, which belongs to your former manner of life and is corrupt through deceitful desires, and to be renewed in the spirit of your minds, and to put on the new self, created after the likeness of God in true righteousness and holiness. Ephesians 4:22-24
Then we can experience the good.
Good … God loves us; He came to earth and lived the perfect life; He was tempted as we are tempted and yet without sin (Hebrews 4:15) and to those who have believed, He has given us the Holy Spirit to live in us as our comforter, convicter, and companion. We are the temple of the Holy Spirit and we are now part of His body, the church. We have been restored to our original relationship with God. We have a purpose in life, to bring glory to our God in and with our bodies as we steward all that has been entrusted to us. God gave a us marriage in which to experience sexual intimacy, family, children, love and life with God.
FLEE from sexual immorality and run to God! How?
Fill yourself with the things of God.
Leave behind the lies of the enemy.
Embrace the truth of a loving God.
Expose my life to the light of God's love and grace.
-Pastor Jerry