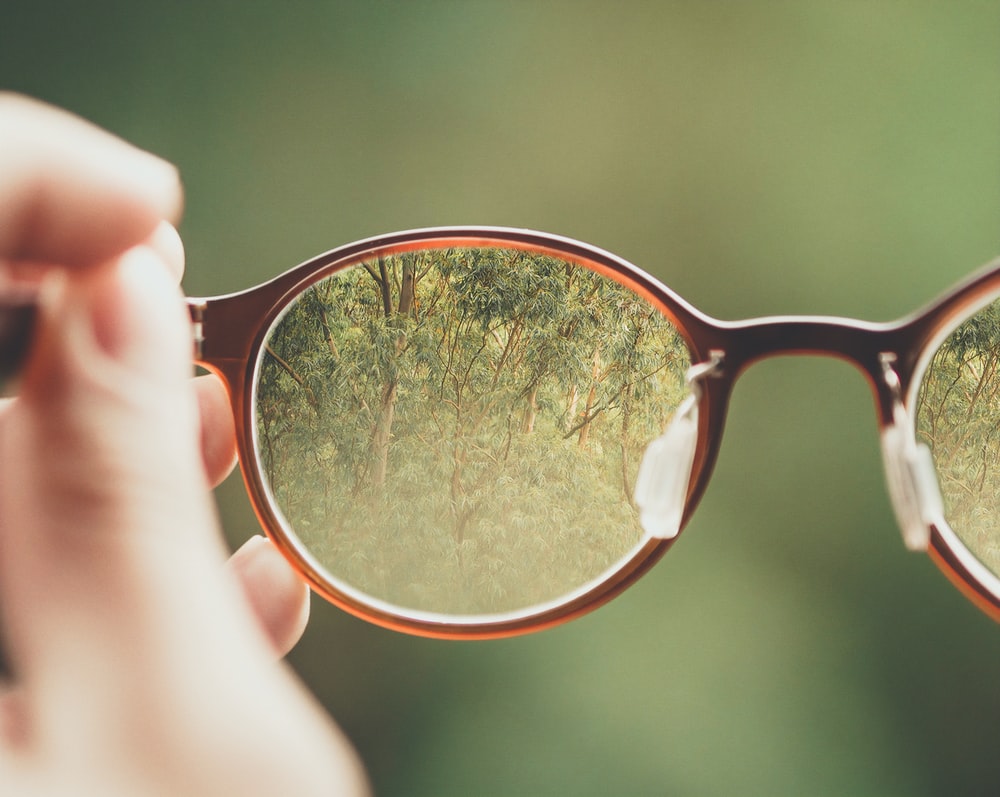 I have worn glasses since the fourth grade when I could not see the chalk board. (Yes, that is before they had white boards and dry erase markers) ... I was nearsighted. Up close was no problem, but far away, I had difficulty because of what the ophthalmologist called astigmatism, which is basically a condition where your eye isn't completely round and it causes refractive errors in bending the light to shine on the retina. That is a long way of saying I had a place in my vision where things were blurred and distorted.
In our study of John 17, Jesus prayed that we would be ONE! That is a big prayer for a big cause … the salvation of humankind. But the truth is that I can lose sight of the bigger picture when I suffer from spiritual vision problems. There are times when I am myopic, only seeing what is in front of me. In those moments, I have very little capacity to see beyond my present circumstances. I find myself consumed with and overwhelmed by what is now, because it is all I can see.
I remember my first pair of glasses, the world looked vivid in color and contrast. I could see that mountain off in the distance when on a hike. I could see the road ahead when riding my bike. I could see where I was going, so that the next step made sense. When I gave my life to Christ at age nine, I also got spiritual vision correction. The sin that created a spiritual refractory error so that I could not see the light of Christ is now a light that shines brightly in me. I know there is more that God calls me to; there is a greater purpose for my life that brings things into focus.
"Where there is no prophetic vision the people cast off restraint …" Proverbs 29:18 or as it is translated in the King James Version, "Where there is no vision, the people perish …"
If we cannot see what God sees for our lives, for His church, for our world, then we live a myopic life only seeing what is in front of our faces, the now, with no thought of what is ahead. It not only robs you of your life of joy and oneness, but it potentially robs others of the joy of knowing Jesus. He prayed …
I do not ask for these only, but also for those who will believe in me through their word, that they may all be one, just as you, Father, are in me, and I in you, that they also may be in us, so that the world may believe that you have sent me. John 17:20–21
Can you see it? God has a greater purpose for your life. Can you see it? A life of being one with Christ ... a life of being one with other believers in the body of Christ. As Paul wrote …
I therefore, a prisoner for the Lord, urge you to walk in a manner worthy of the calling to which you have been called, with all humility and gentleness, with patience, bearing with one another in love, eager to maintain the unity of the Spirit in the bond of peace. There is one body and one Spirit—just as you were called to the one hope that belongs to your call— one Lord, one faith, one baptism, one God and Father of all, who is over all and through all and in all. Ephesians 4:1–6
THIS WEEK: Spend some time in prayer asking God to give you a vision of oneness with Him for your life, a vision of loving God and loving others, a vision of calling, compassion and community. What is it that you can do today that will move you toward God's vision for you.
-Dr. Jerry