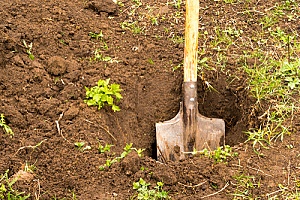 The journey of being human is the journey of seeking to fill the hole in our lives. We may not fully understand the emptiness or the longing for more that we live with, but it is there none the less. It is the journey of finding the truth about what makes us whole again. Everyone has a hole that keeps them from being whole. When I was a kid trying to figure out what it meant to be accepted, loved and just to be safe, I figured out that what others thought of me could either make me feel empty or filled up. So I sought the approval and affirmation of others for my sense of wholeness, value and purpose. I had a hole that constantly needed to be filled by the words and affirmation of others. It was a never-ending need and then … I met Jesus and found that He fit perfectly in that hole in my life. It is true what Blaise Pascal said, "There is a God shaped hole in the life of every human being."
I began to understand the words of Jesus in Matthew 5:48 You therefore must be perfect, as your heavenly Father is perfect. Matthew 5:4
The word for perfect actually means complete or whole. God is perfect; He is complete; He is whole. We were created complete, whole, perfect in the image of God … then sin entered the world of Adam and Eve. The sin of pride, distrust, self-reliance, self … everything. Sin has created a hole in the life of every human being. We discover that hole, that emptiness at early age and spend our lives filling it with stuff that we think will fill our lives with meaning. We have friends; we get married; we have kids; we get jobs; we acquire titles, toys and treasures … and still, we search for more meaning and purpose in life.
The need to fill the hole is a universal need; it is a human need and it is a need that only God can fill. Matthew 6 begins with the prayer that Jesus taught His disciples …
Pray then like this: "Our Father in heaven, hallowed be your name. Your kingdom come, your will be done, on earth as it is in heaven. … Matthew 6:9–10 Filling the hole is about wanting what God wants. Praying that His Kingdom comes in our lives and world. The problem is we tend to seek our own kingdoms.
Jesus goes on to say …
"Do not lay up for yourselves treasures on earth, where moth and rust destroy and where thieves break in and steal, but lay up for yourselves treasures in heaven, where neither moth nor rust destroys and where thieves do not break in and steal. For where your treasure is, there your heart will be also." Matthew 6:19–21 Why? Because our kingdoms, our efforts to fill the hole will not make us whole but rather just cause us to take our eyes off the one who gave His life for us. We will spin our proverbial wheels in this world and get nowhere down the road of filling the hole in our lives.
Then Jesus says that the world, those who do not know the truth worry about all the basic stuff of life to fill the hole …
Therefore I tell you, do not be anxious about your life, what you will eat or what you will drink, nor about your body, what you will put on. Is not life more than food, and the body more than clothing? Matthew 6:25
Therefore do not be anxious, saying, 'What shall we eat?' or 'What shall we drink?' or 'What shall we wear?' For the Gentiles seek after all these things, and your heavenly Father knows that you need them all. But seek first the kingdom of God and his righteousness, and all these things will be added to you. Therefore do not be anxious about tomorrow, for tomorrow will be anxious for itself. Sufficient for the day is its own trouble. Matthew 6:31–34
It is in trusting Jesus that we can let go and seek God and His kingdom. We can find a why and meaning that fills the hole and makes us more whole in this life.
– Pastor Jerry