A Scary Thing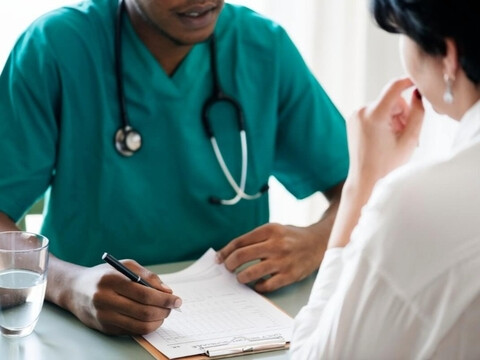 Apr 5, 2020

| by

Nancy Newbrough

One of the scariest things you will ever hear from a doctor is, "That is a melanoma cancer tumor." I know because just a month ago, I heard that from my dermatologist!

Not the most observant person, I was surprised about six weeks ago when my wife pointed out a funny-looking bump on my back. It was pretty bad-looking -- about the size of a pencil eraser. Because of a bad experience with a melanoma tumor about 30 years ago, my wife talked me into going to the dermatologist to have it looked at -- along with a funny-looking brown spot I have had on the side of my face for years.

The dermatologist took biopsies of both areas and sent me home to await results. Three days later, the doctor called with some very surprising news. The terrible looking bump on my back was no problem at all, but the discoloration on my face was another matter. This spot about the size of a quarter was a deep and wide melanoma cancer tumor. I told her it had been there for years and was looked at previously but did not seem to be a problem.

Over the past year, I had noticed it getting bigger. Being outdoors fishing, hunting and playing softball has been a big part of my life. She told me that continued exposure to the sun without proper protection can cause this kind of a problem and I should have been checked by a dermatologist at least once a year. Who knew!

I was sent directly to the Head and Neck Surgery Department of M.D.Anderson. They quickly determined a plan of attack: an immediate surgical removal of the tumor which is located on my left temple. The surrounding area would also be removed, and an evaluation of the lymph nodes associated with that part of my face would be included. This would be followed up one week later with reconstruction surgery.

My wife and I immediately sent out an urgent call for prayer to our family, friends, and both our LIFE Group and the Prayer Team here at The Fellowship. Blanketed in prayer, the first surgery went smoothly.

Pathology results take one week and were available just before the reconstruction. They indicated the need to enlarge the original surgery to address a bit more affected tissue, but the lymph nodes were clear. The reconstruction included a basic face lift to cover the wound with skin from my neck. To protect this extensive surgery, a large yellow bandage had to be sewn onto the side of my face between the left eye and ear. Not only was it very unsightly, but also badly affected my ability to sleep.

What a relief to receive word this week that it was a Class 1 tumor confined to the skin only and showing no sign of spreading. There is no need for further procedures - Hallelujah! Praise the Lord for His special protection and many answers to the petitions of our great prayer warriors!

What has this experience taught me? Always wear sunscreen when enjoying outdoor activities and get checked by a dermatologist once or twice a year. In 2020, more than 100,000 new melanomas will be diagnosed.

At the end of this pandemic, we hope to return to life as normal, surrounded by family and friends. A special thanks to my wife who basically forced me to have this spot examined … and a thank you to all who faithfully prayed for God's provision in this process!

J.B.

So do not fear, for I am with you; do not be dismayed,
for I am your God. I will strengthen you and help you;
I will uphold you with my righteous right hand.
Isaiah 41:10

While many moles are harmless, any displaying these characteristics should be seen by a dermatologist:
Asymmetry -- Does one-half of the mole not match the other?
Border -- Are the edges or borders blurred, irregular or notched?
Color -- Is the color not uniform across the growth? Does it include shades of brown or black, or patches of blue, pink, red or white?
Diameter -- Is the mole larger than 6mm - about the size of a pencil eraser?
Evolving -- Over time, does the growth change in color, shape or size?
Other symptoms of melanoma include pigmentation spreading beyond the border of a growth, changes in surface texture or sensation, or sores that do not heal.
Source: MedStar Georgetown Cancer Institute